Jeremy Renner suffered numerous injuries at the hand of his own snowplow on New Year's Day 2023, putting him on the road to recovery for the past three months. Now, it looks like the Hawkeye star has made some serious progress and healed a ton, considering he spent Friday with his family at Six Flags Magic Mountain in Valencia, California. 
Renner took to Instagram Friday night to share a cute family photo at the theme park where he stood in the middle on his feet again, but rocking a sweet cane. Check out the post: 
This guy is a superhero for real! Jeremy Renner's injuries were a massive deal and included eight of his ribs being broken in 14 places, as well as his right shoulder, clavicle, knee, tibia and ankles were also broken. Additionally, his lungs collapsed among other injuries on his face, eye socket, mandible and liver. Renner has had a really rough 2023, but look at him now, he's seemingly thriving.
Being out and about at a theme park can be physically taxing for anyone, so the Friday theme park visit must have been a  really beautiful moment in his recovery process, and he and his family have to be super proud.  Last week, Renner also gave his first interview since the harrowing accident where he got real to Diane Sawyer about being worried about whether his body would ever function again. Renner shared that he had to choose "to survive" through a load of pain during and after the accident. 
Rennervations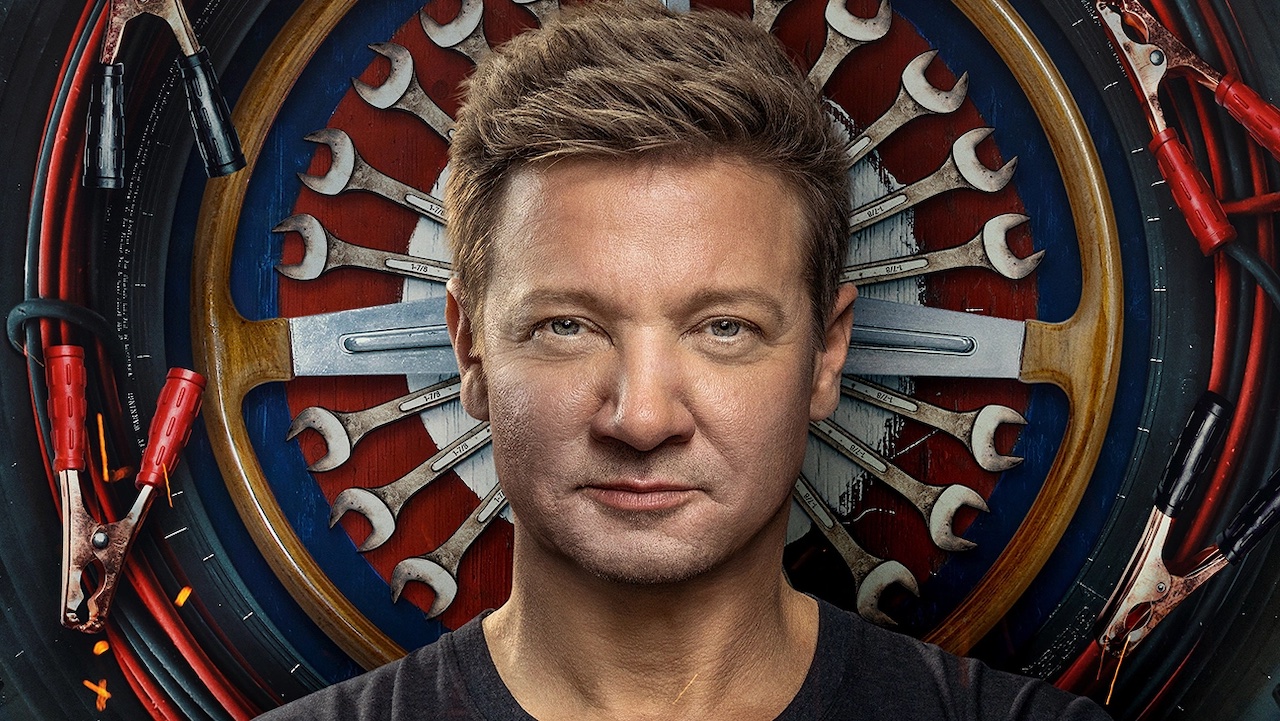 Release Date: April 12, 2023 (All 4 episodes)
Created By:  Zach Merck
Starring: Jeremy Renner, Anthony Mackie, Vanessa Hudgens, Anil Kapoor and Sebastián Yatra
How To Stream: Disney+ subscription
The actor's story from entering the hospital in critical condition on January 1 to resuming normal activities in early April speaks to his resilience and it's truly inspiring to witness, even from the outside in. Renner has lovingly had the support of his family, friends and massive fan base. We're also so happy to see him enjoying his life after a difficult setback, at Six Flags no less.
This celebration was perfect timing too, because coming next week, Jeremy Renner's Disney+ series Rennervations is hitting the streaming service, which he has been hyping up lately. Rennervations is a four-part docu-series that follows the Marvel actor as he travels the world and follows his "lifelong passion" to give back to communities by "reimagining unique purpose-built vehicles" to help them out, per the Disney+ press site. The series was filmed prior to Renner's accident, and it will feature his MCU co-star Anthony Mackie along with Vanessa Hudgens among other guest stars. 
Will Jeremy Renner also get back in action in upcoming Marvel movies? We don't know for the time being, but time will certainly tell. For now, it's great to see the actor finding this victory in his personal life by getting back to normal with a family fun day at Six Flags.