Jennifer Aniston and Adam Sandler's electric chemistry and amazing comedic timing is back at it again for their third movie together, Murder Mystery 2. The Netflix sequel has the pair of funny actors playing detectives who find themselves having to solve an abduction case during a friend's wedding. As the Murder Mystery sequel arrives at the top of Netflix's movie charts, Aniston is giving fans a glimpse behind the scenes. 
The comedy actors who first made a rom-com together with 2011's Just Go With It clearly have a blast making movies together, and it shows in Aniston's awesome BTS post. Check it out on Instagram: 
Murder Mystery 2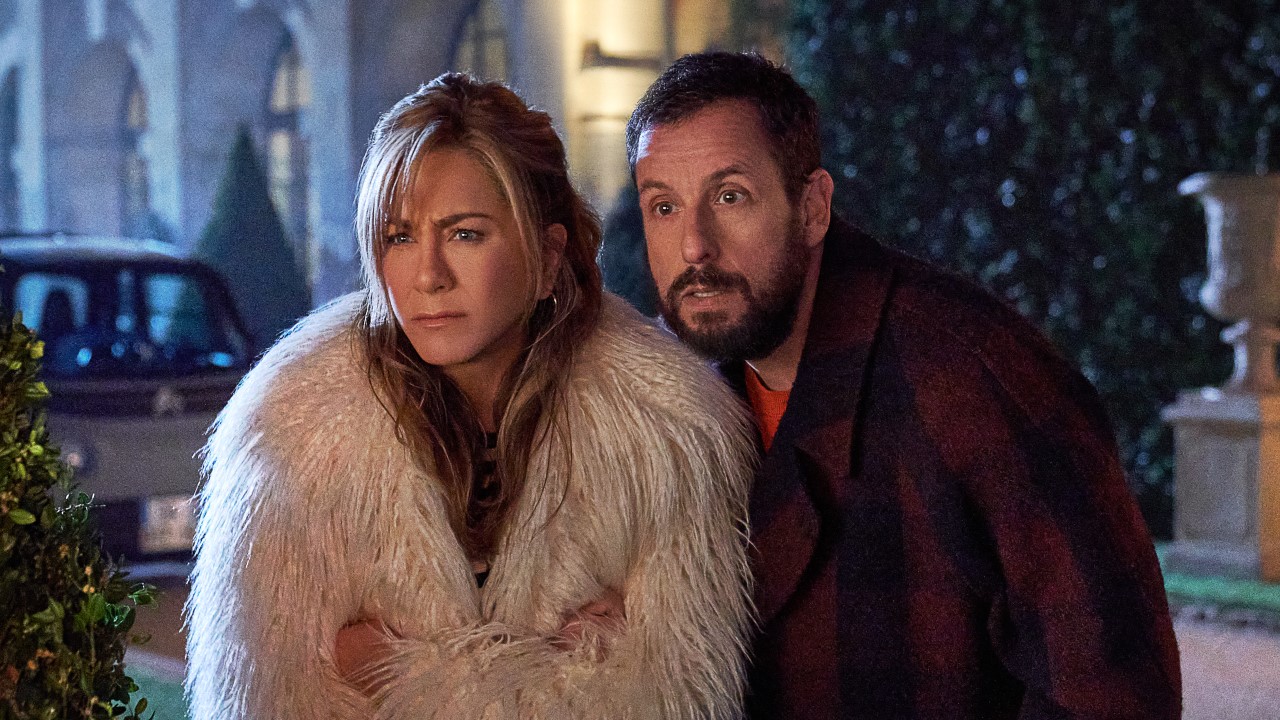 Directed By: Jeremy Garelick
Written By: James Vanderbilt
Starring: Adam Sandler, Jennifer Aniston, Mark Strong, Mélanie Laurent. Jodie Turner-Smith, John Kani, Dany Boon, Jillian Bell, Tony Goldwyn and more.
Runtime: 90 minutes
How To Stream: Netflix subscription 
Aniston and Sandler looked like they had the time of their lives on the set of Murder Mystery 2, and finally it's out in the world for everyone to check out. The reel plays to the tune of Harry Styles' "Music For A Sushi Restaurant" as various videos from the shoot showcase a number of fun experiences the pair, along with the cast and crew enjoyed while making the comedy. 
It's fun to see the in-between moments on Murder Mystery 2, including some little bloopers between them, Sandler dancing on set and Aniston flying on a wire in front of some blue screen for a little bit of movie magic. While the pair are just a movie couple, I absolutely love seeing them together and they are certainly not faking their chemistry and longstanding friendship. 
Murder Mystery 2 debuted last Friday on Netflix and now holds a spot in the top 10 in 91 countries all over the world. Plus, the original movie that introduced the Spitz's in 2019 has jumped to the No. 6 spot of the charts as viewers clearly opt for double features of the Netflix duology. 
Both Murder Mystery movies have been huge draws for Netflix viewers, with the original movie breaking an opening weekend record for the streaming service in 2019 when over 30 million accounts watched the film in its first three days out. Now the sequel has become the second biggest opening weekend for a comedy film on Netflix, with 42 million views over three days, per Variety. With nearly a week of release, Netflix (opens in new tab) currently clocks the total viewing hours at 64 million as well for the time being.  
Murder Mystery 2 isn't necessarily blowing the minds of critics or audiences when you look at rating sites like Rotten Tomatoes giving the sequel middling scores, but that's not unlike the reception of the first movie. No matter what the consensus is, viewers are tuning in undoubtedly for another Aniston and Sandler pairing and some comedic crime-solving.  
Check out the pair of actors speak to CinemaBlend about a Hubie Halloween/Murder Mystery crossover from our exclusive interviews as you stream the title on Netflix.