Looking back on Hugh Jackman's successful career, the movie that really shot him into stardom was X-Men when he appeared as Wolverine for the first time. In the two decades that followed, the actor has reprised his role as Logan nine times, and he will appear as the character for the tenth time by teaming up with Ryan Reynolds for Deadpool 3. It's a well-known fact that before Jackman got the Marvel role Russell Crowe was considered for it, however, the Gladiator star didn't feel right for it. So, he recommended his fellow Australian actor. Now, the man we've come to know as Wolverine is sharing a sweet message about the actor who helped him land one of his most iconic roles. 
Russell Crowe has openly talked about turning down the role of Wolverine, and recommending Hugh Jackman for the part. He spoke about it recently on the Happy, Sad, Confused podcast, talking about how he felt like his fellow Aussie looked a lot like the Marvel character. Crowe said: 
The Logan star, who was actually cast as Wolverine at the last minute, saw the video, and posted a sweet message to Crowe, writing: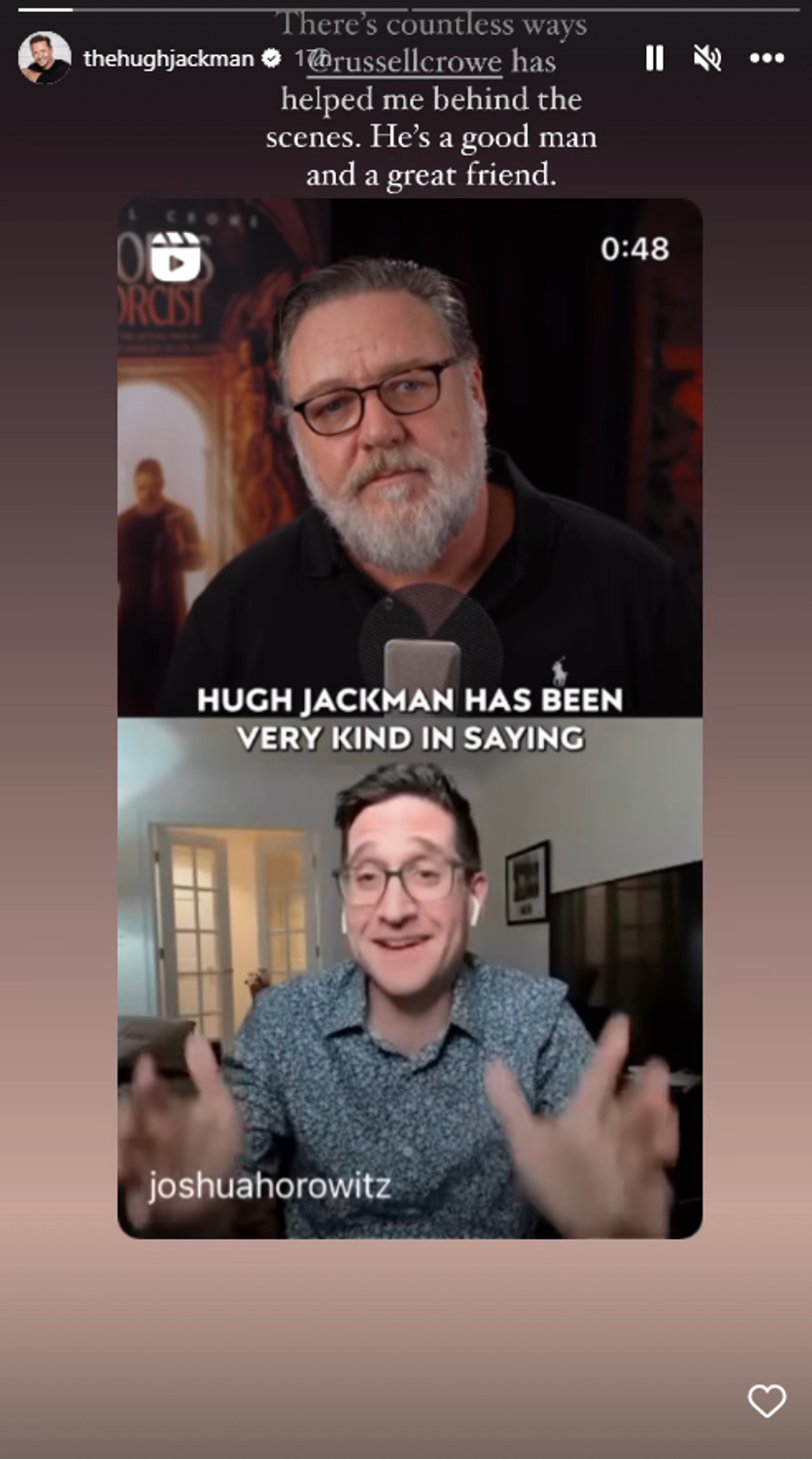 Knowing that Crowe turned down such a massive role because he thought he wasn't the perfect fit, and then recommended an up-and-coming actor instead says a lot about him, and it's extremely generous. I also think Jackman's message to his friend is also incredibly sweet and telling about how grateful he is for the role that kind of made his career. 
On top of recommending Jackman for the role, Crowe has also been very complimentary about his fellow actor's performance. He said he never could have done Wolverine as well as Jackman did, saying he "wouldn't have carried it through with the grace and the direction that Hugh gave it." 
Turns out, X-Men was not the only time Crowe recommended Jackman for a role. He also told Josh Horowitz that when Baz Luhrmann offered him Australia, he recommended his Les Misérables co-star for the role instead, saying: 
Crowe went on to say that he's never had an issue turning down roles that he didn't feel right for. Not only has it helped make careers for actors like Hugh Jackman, it's also a big reason the actor said he still loves his job. 
Since Crowe turned down Wolverine, and Jackman went on to play him, both actors have had legendary careers, and are still hard at work. Jackman will return once again as the iconic Marvel character in Deadpool 3. While Crowe joined the MCU last year by joining the Thor: Love and Thunder cast as Zeus. While it seems unlikely, it would be incredibly fun to see the longtime pals work together on one of Marvel's upcoming projects considering the X-Men are officially part of the MCU.
However, that will probably never happen, so let's focus on what is a guarantee. When it comes to Crowe, he has four movies on the 2023 movie schedule, including Kraven the Hunter. And in terms of Hugh Jackman, we can look forward to Wolverine's official debut in the MCU in 2024, and we have Russell Crowe to partially thank for that.