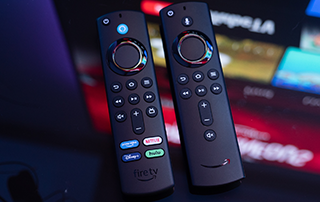 Do you need a Firestick Replacement Remote? This article will provide you with the best options and show you how to use each of them.
These Firestick remote alternatives will also work with any Fire TV device as well.
If you have lost or broken a Fire TV remote then you know how frustrating it is to find or purchase a new one.
Luckily, there are a few alternatives that work great with the Fire TV box and Stick. Many users even find these better than the actual remote as they offer some additional features.
If you are simply having trouble pairing or syncing your remote, or have any other questions about the device, check out the link below:
Firestick Remote Resource Guide
This guide will answer any questions you have about your Firestick remote and help you get it working again!
Fire TV Remote App
One of the best and simplest options when looking for a replacement remote for your Firestick is the Fire TV Remote App.
This is a free app downloaded to an iPhone, iPad, Android, or any other Smartphone that works exactly the same as the original remote that came with your device.
The Apple App Store, Google Play Store, or any place that holds your phone's applications all carry the remote app. Just do a quick search for Amazon Fire TV Remote or use the links below:
iPhone Remote App
Android/Google Pixel Remote App
Amazon Fire Remote App
Using the Fire TV Remote App
Upon installation, the Firestick remote app is available for use with the same features of your original remote but with some added extras to boot.
⚖️ Legal Disclaimer: TROYPOINT does not operate, develop, host, or administer any streaming app, addon, service, or website. This is a review site where we point out the good, bad, and possibly illegal practices found within various apps, addons, services, websites, etc. The end-user is ultimately responsible for anything streamed or downloaded through his/her Internet connection. TROYPOINT assumes that all visitors are abiding by copyright laws set forth within their jurisdiciton. TROYPOINT will not be held liable for ISP termination, lawsuits, data breaches, fraudulent charges, etc.
Shown below are screenshots of the app on an iPhone XS. However, this should be similar for all Apple devices including iPad.
Once the App is installed, you will need to connect the Firestick or Fire TV to your phone via Wi-Fi. The phone and Fire TV must be connected to the same Wi-Fi Network for use.
After opening the App, it will detect your device(s). (Yes, I have a lot of Fire TV devices)
To Pair the Fire TV Remote App with your Device you must:
1. Select the Fire TV/Stick device you will be using
2. Once chosen, look for a 4 digit code that will appear on your TV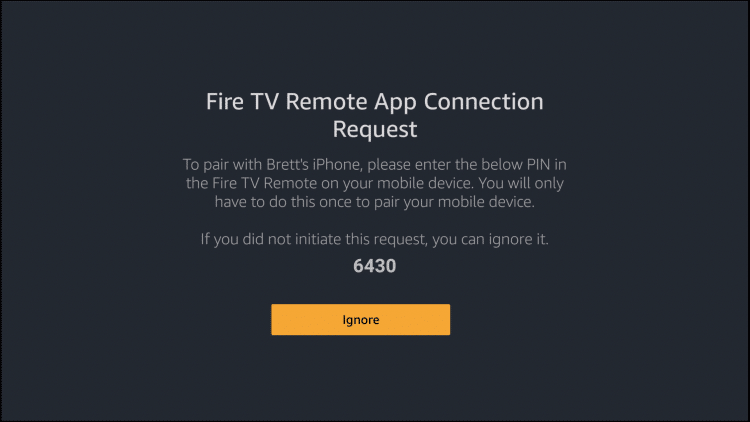 3. Type this code into your phone's App
YOU'RE BEING TRACKED…
Your online activity is tracked by your Internet Service Provider, app/addon/IPTV devs, and government through your identifying IP address.
Stream anonymously by using Surfshark VPN.
Surfshark will encrypt your connection to the Internet, mask your identifying IP address and location so you will become anonymous.
Your Current Identifying IP Address:
SAVE 82% ON SURFSHARK + GET 2 FREE MONTHS
Surfshark backs their service with a 30-day money back guarantee.
Surfshark allows you to use your account on unlimited Internet-connected devices
4. When recognized, it will access the Fire TV Remote App
The center of the Application is a touchpad for navigating through your Fire TV.
Swipe left, right, up, and down to move and operate the device. Tapping the center of the screen will click or select.
The buttons on the bottom function exactly the same as a typical Fire TV remote would. And on top is a toolbar that can be used for numerous capabilities within the device.
One of the best features of the remote app is the one-click launch ability for any app on your firestick device. Click the button next to the keyboard on your Firestick remote app to access: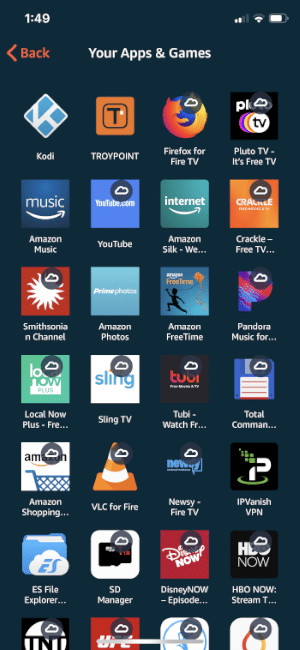 Fire TV Replacement Remote Benefits
As you can see, there are some great benefits to using the App versus the actual remote for Fire TV.
Many older generation Fire TVs do not offer Alexa Voice Assist with the compatible remote. Using the app gains access to Alexa with any generation Fire TV.
The Apps and Games Tool opens all downloaded Games & Applications on your phone for easy selection rather than having to scroll through them on the television. You can also move them around to suit your preference.
One of the coolest features available on the remote App is the Keyboard option.
We all know how frustrating and time-consuming it is to type in a search using the Fire TV remote. With the App, you always have the option to select the Keyboard and type e-mail addresses, searches, and more.
This definitely comes in handy when entering urls for downloading APK's within the Downloader application.
There are plenty of options to explore within the Fire TV Remote App. After testing the remote it is easy to see why many prefer this App to the actual remote for their Amazon Fire TV devices.
Other Options
1. iPazzPort Mini Keyboard
Using a keyboard as a replacement remote for a Fire TV box or stick is a great alternative to the original remote.
With a keyboard paired to your device, numerous apps and functions will now be available that weren't before.
iPazzPort provides a few options for firestick replacement remotes. However, some of them will require an OTG Cable for full use.
If you do not have an OTG cable or device with USB compatibility, you will likely want the Bluetooth version of this remote.
Purchasing a Bluetooth remote such as the iPazzPort Mini Wireless Keyboard will enable you to use multiple devices with just one remote.
iPazzPort Mini Wireless Keyboard
2. iPazzPort RGB Backlit Mini with Touchpad Mouse
If you have an OTG Cable for use with your Firestick or Fire TV, there are a couple of other options that may be better than the wireless remote.
The iPazzPort RGB Backlit Keyboard comes with an included dongle that you can attach to your OTG Cable. This keyboard remote allows users to program with their TV Remote to control power, volume, and more.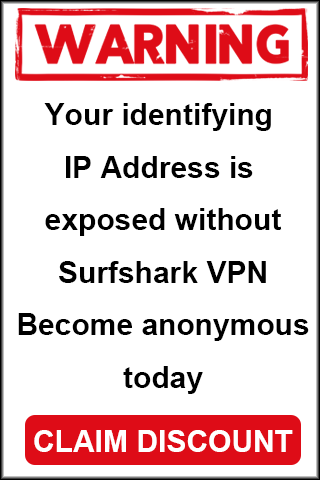 iPazzPort RGB Backlit Mini Keyboard (OTG Cable Needed)
3. MX3 Pro Mini Keyboard with Air Remote
Users can also purchase the MX3 Pro Mini Keyboard with Air Remote that is perfect for Fire TV Devices.
If you have ever tried using the Amazon remote for mouse features within the device, you know how frustrating it is. This remote makes using a mouse easy with included air mouse compatibility.
It is smaller in size than other remotes and works perfectly with tons of devices including the Firestick and Fire TV.
MX3 Pro Mini Keyboard Air Remote
After purchasing a keyboard remote, you can follow along with the guide below to learn how to pair your remote to a Firestick or Fire TV device.
How To Pair Bluetooth Remote
Original Amazon Fire TV Replacement Remote
For those who wish to replace their remote with another original fire tv remote, you can easily do so.
Amazon sells most versions of the Fire TV Remote that are compatible with Firestick and Fire TV Devices. However, these also carry a heavy price tag.
Currently, you can buy the Amazon Fire TV Stick 4k with Alexa Remote for 49.99. While just the remote itself is listed at $29.99.
Alexa Voice Remote for Amazon Fire TV and Fire TV Stick
For the latest tips, reviews, and tutorials in the tech and streaming world, be sure to sign up for the TROYPOINT Advisor with updates weekly.
This Advisor provides all the best tips to get the most out of your favorite streaming devices and more. Click the link below for your TROYPOINT Advisor Subscription:
TROYPOINT Advisor
Firestick Replacement Remote FAQ
Can I Replace my Firestick Remote?
Yes, there are multiple replacement options including the original remote.
Can I Use my Firestick without a Remote?
Technically yes. Installing the Fire TV App on your mobile device will give you remote functionalities on your phone.
What Remotes Work with Firestick?
Most Bluetooth or keyboard remotes have the ability to sync and work with Firesticks and Fire TVs.
Where Can I Buy a Firestick Replacement Remote?
You can purchase a new remote from Amazon or buy an entirely new device for a little bit more from Wal-Mart, Best Buy, etc.
Related
This page includes affiliate links where TROYPOINT may receive a commission at no extra cost to you. Many times, you will receive a discount due to the special arrangements made for our visitors. I will never promote something that I personally don't use or recommend. Purchasing through my links directly supports TROYPOINT which keeps the content and tools coming. Thank you!