The Star Wars franchise is a beloved piece of film history that remains a vital part of pop culture. Generations of fans were brought up on the galaxy far, far away, many of whom traveled across the pond to attend Star Wars Celebration, which offered some thrilling announcements about the future of the property. That includes news that Daisy Ridley is going to reprise her role as Rey in an upcoming movie set after the events of The Rise of Skywalker. And in response to being brought back, Ridley threw it back to her first Star Wars Celebration. Someone get this woman a lightsaber!
Actress Daisy Ridley played new protagonist Rey in the Star Wars trilogy sequel, bringing a ton of heart and action to her nobody turned Jedi. She'll be returning to the property in a recently announced movie directed by Sharmeen Obaid-Chinoy, which will show Rey forming a new Jedi order. The Murder on the Orient Express actress appeared onstage at Star Wars Celebration to make the announcement all the more exciting, before reflecting on Instagram about her first time at that event. Check it out below: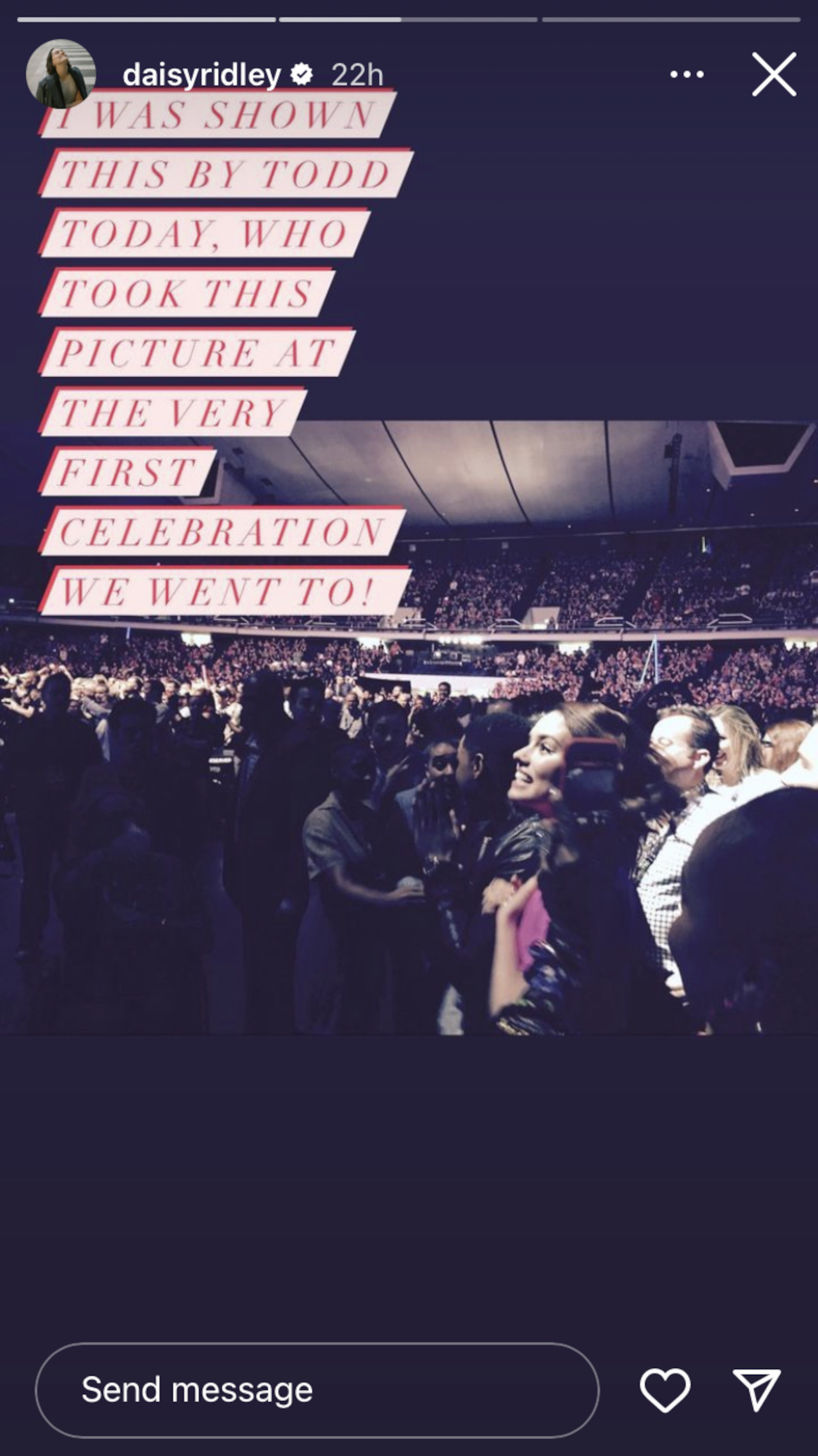 How sweet is that? You can really see how excited Daisy Ridley was to attend her first Star Wars Celebration. And as she prepares for the next sage of her career in George Lucas' beloved space opera, she's no doubt reflecting on her time spent as everyone's favorite scavenger turned Jedi. Smart money says she'll be back for more of these events going forward.
Daisy Ridley's throwback comes from her Instagram Story, which was shared to her 357K followers. The Star Wars fandom seems thrilled about her upcoming return as Rey, especially because there are finally plans for three new Star Wars movies to arrive. And with Rey forming a new Jedi Order it seems like just about anything could happen. Now the question is: will she be joined by more stars from the sequels? Only time will tell.
As soon as it was announced that Daisy Ridley would appear in another Star Wars movie set after The Rise of Skywalker, fans began questioning and theorizing what else could be in this developing project. Arguably the biggest is about the rest of the cast, and if any other icons from the sequel trilogy will join her. Some fans are hoping to see Adam Driver's Ben Solo appear as a Force Ghost, while others are hoping that John Boyega's Finn finally gets to become a Jedi in his own right. We'll just have to see what Kathleen Kennedy and company have up their sleeves.
There were a total of three Star Wars movies announced last week, and they all take place during different points of the franchise's timeline. Star Wars Celebration also shared thrilling updates about the Disney+ shows, including Rosario Dawson's Ahsoka. Hopefully the film projects will have a speedy development, as it's already been a number of years since the franchise was in theaters. 
The new Star Wars movies don't have release dates yet, but fans are psyched about their development nonetheless. In the meantime, check out the 2023 movie release dates to plan your next movie experience.